All The Health Support You Need...
Made Delicious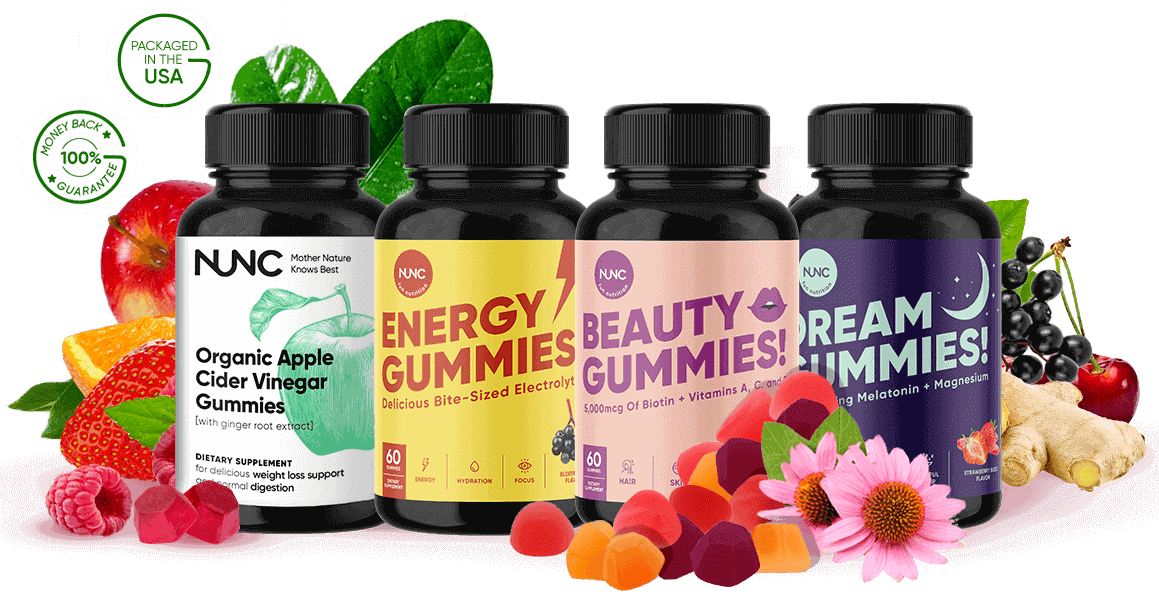 With clinically-studied ingredients
that support...
Weight management
Immune health
Healthy digestion
Meet Our Special NUNC Bundles
Living comfortably, joyfully and tasty is the main
goal of creating our product.
Organic Apple Cider Vinegar Gummies w/Ginger Root Extract
Struggling with digestion issues? Annoyed by food cravings? NUNC ACV gummies provide 500 mg of unfiltered apple cider vinegar with "mother' bacteria to help...
Support Weight Management
Detoxify The Body
Improve Energy
Control Hunger Cravings

Protein Bars
Meet our improved version of NUNC Bar! Now available in 2 flavors!
Inside you will find: ACV + natural whey protein = mental and physical fuel, unlike anything you've ever tried, that...
Replaces One Full Meal
Supports Weight Loss Efforts
Satisfies Hunger Cravings
Helps You Not Be Grumpy
Improves Energy

Vitamin D Gummies
Feeling a bit "out of sorts" lately? Catching whatever nasty bug going around? Each serving (2 gummies) of Nunc Vitamin D gummies delivers 2,000 IU of Vitamin D ensuring that you get enough of it to help...
Fortify A Healthy Immune System
Support Speedy Muscle Recovery
Maintain A Positive Mood

Vitamin B12 Gummies
Worried about your bone strength and cognitive functions? Feeling down sometimes? Delicious NUNC Vitamin B12 gummies are the support you need: only the best quality vitamin B12 and flavored with real raspberries
Support Healthy Bone Density
Maintain Healthy Cognitive Functions
Improve Overall Mood And Well-Being
People Love To NUNC
With over 3,000+ satisfied customers, here's what people have to say about NUNC.
30-Day Money-Back Guarantee
Try us out for 30 days risk-free. If you don't like us, we'll return your money, every penny.
Free Shipping On All Orders
Every order of NUNC comes with free shipping within the US.
Super Easy Returns
Pay for something you didn't like? Nah. Just send it back.
ACV With The Mother
Plant-Based Ingredients
Gluten & Allergen-
Free Gummies
Non-GMO
Packaged
In The US